Herron Vineyard
AVA

Sonoma Valley
Decade

1960s
County

Sonoma
Sub-Appellation

Wynne Herron
Location Notes

233 Sobre Vista Rd, Sonoma, CA
Historical Producers

Maitre de Chai
Description

In 1969, Rudy Rodriguez planted the Herron Vineyard on a small parcel a few hundred feet above the Sonoma Valley on Sonoma Mountain. Harry Crete, the owner of the property, originally sold his fruit to Mike and Mary Benzinger throughout the 1970s and 1980s. In 1989, Phyllis Herron purchased the property from Harry Crete and continued growing grapes.

Today, Phyllis' son, Wynne Herron, lives on the property and oversees this beautiful parcel on Sonoma Mountain. The vineyard is farmed by Rudy's nephew Servando as well as Marty Winters and Alex Pitts of

Maître de Chai

. All of the fruit is taken by Marty and Alex at Maître de Chai for their 'Herron Sauvignon Blanc' bottling.
Phone

4104996022
Submitted by

Martin Winters
Certified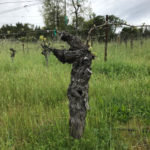 ---