HMR (Hoffman Mountain Ranch)
AVA

Paso Robles
Decade

1960s
Sub-Appellation

Adelaida District
Current Owner

Van Steenwyk family
Planted by

John Whitener
Location Notes

Hoffman Mountain Ranch (HMR) is a celebrated vineyard in the hills of Paso Robles' Adelaida District. The vineyard is planted on limestone (>50% calcium carbonate) and clay at 1400-1700′, 14 miles from the Pacific Ocean.
Wineries

Adelaida Vineyards & Winery
Historical Producers

HMR Winery 1972.

Adelaida
Description

Planted in 1964 with Pinot Noir and "Gamay" (UCD characterized it as Pinot Noir in 2016). Cabernet Sauvignon was planted on a parcel here in 1973 but that piece has since been removed. Pinot Noir totals 34 acres, with 23 of those acres original and producing 1.5 tons per acre. The remaining 11 acres were taken as cuttings from the original. HMR Ranch totals about 400 acres, with about 100 planted to vines. 

Andre Tchelistcheff was consulting winemaker on this vineyard beginning in 1973. The soil pH of 8.1-8.3 results in wines with a low pH, as the limestone restricts the ability of the roots to suck up potassium. 

This warm region vineyard produces Pinot Noir, as well as Chardonnay and a dozen Rhone varietals, with notably high acidity and other attributes associated with cool climate wines. 
Facts

Unknown rootstock and clone for the Pinot Noir. Pinot Noir and the white varietals are planted East-West while the Rhone varietals are planted North-South. The majority of the plantings are on VSP. There are also 20+ acres of head-trained and dry farmed Zinfandel. Slopes of about 25%.
Submitted by

Jeremy Weintraub
Certified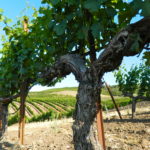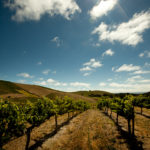 ---