Morisoli Vineyard
AVA

Napa Valley
Decade

1900s
County

Napa
Sub-Appellation

Rutherford
Current Owner

Gary Morisoli
Planted by

Rocco / Plinio Morisoli
Location Notes

Located between Niebaum and Manley lanes in Rutherford, less than a mile west of Highway 29 in the center of the Rutherford Bench. This two-acre plot is in the middle of the 53-acre Morisoli Vineyard. The gravelly bale clay loam and well-drained soil yields a wine of great structure and abundant fruit flavors.
Wineries

Elyse Winery: 1985 – Present
Historical Producers

Christian Brothers Winery: 1920s-1960s
Sunny St. Helena Winery and Napa Valley Co-Op Winery: 1960's-1984
Characteristics

Ageability, depth in flavor, dust, upfront fruit and spice.
Description

Originally planted in the late 1880s on own rootstock, this section was gradually replanted on St. George rootstock from 1902-1908 as the own-rooted vines died of phylloxera. This section of vineyard remained through Prohibition and its grapes were sold for sacramental wine to the Christian Brothers Winery. It remained as a very special plot of "field blend" Zinfandel and was kept in production as other sections were re-planted between the 1930s and 1980s. Since 1985 these grapes have been sold to Elyse Winery for use in their vineyard-designate Elyse "Morisoli Vineyard" Zinfandel.
Facts

This vineyard is all head-trained, dry farmed and set at 7' x 7' vine spacing. The soil is a Bale Clay Loam and is slightly elevated allowing for good natural drainage. Bordering vineyards include Inglenook to the North, Scarecrow to the West and Phelps to the East. It is still farmed the exact same way: by hand and with a 1934 Cletrac Tractor to disk and cross-cultivate twice per year.

In 2001 Jean Michel-Boursiquot, ampelographer and Director of ENTAV France, walked the vineyard and identified nine varietals including: Alicante Bouschet, Carignan, Durif, Grand Noir de la Calmette, Muscat Hamburg, Negrette, Syrah, Valdiguie and Zinfandel. Cuttings were taken by Deborah Golino of the UC Davis Foundations Plant Materials Service for testing, treatment and cloning. Cuttings were originally taken from this vineyard to plant the "Gate Vineyard Zinfandel" of Inglenook Winery and other vineyards within the Rutherford area. The vineyard is still in production today and yields around two tons per acre.
Submitted by

Christopher Morisoli
Certified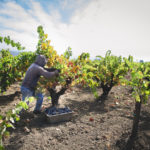 Photo by Margy Nissen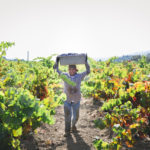 Photo by Margy Nissen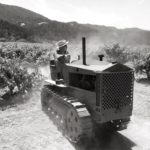 Photos courtesy of Morisoli Vineyard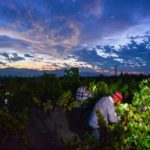 Photo by Jake Coursen
---