Sky Vineyards – 1973 St. George Block
AVA

Mt. Veeder
Decade

1970s
County

Napa County
Current Owner

Lore Olds
Wineries

Sky Vineyards
Characteristics

Intensely red fruited, firm mountain tannin, with a vein of sharp acidity that lends the wines to a long aging potential.
Description

If it is accurate that vines often reflect the character of the farmer that tends them, the Sky Vineyards '73 planting of Zinfandel on St. George rootstock is living proof. Head trained to a height that suits the 6'1 frame of Lore Olds, who has continuously pruned this block since its inception. Having both survived dual calamities, AXR induced phylloxera that saw much of the original plantings torn out in late 90s, and the 2017 fires, both these vines and the Olds family continues to endure.

At 1/3 of an acre, the block is the second oldest Zinfandel block on Mt. Veeder after Brandlin Ranch. Planted at 2200′ elevation. The soils are red, volcanic loam similar to what is found at nearby Monte Rosso Vineyard.
Submitted by

Chris Rush
Certified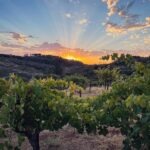 ---